"All the Smoke"
Group exhibition May 20th - June 24th, 2023
Featuring Shantaye McMorrow, KAVES, Piero Penizzotto and PJ Cambe
Opening Reception May 20th 3 - 6pm!


Court Tree Collective proudly presents "All the Smoke", a group exhibition featuring four local artists that blur the lines between pop culture and abstraction. PJ Cambe decollages are made from actual wheat pasted advertisements that flood the streets and subway stations of New York City. Michael "KAVES" McLeer, the world-renowned graffiti artist works within the medium of found objects. Transforming discarded billboard sized portraits to create new identities. Shantaye McMorrow's dark, gritty paintings act as pavement to work out her own traumatic life events. Piero Penizotto uses traditional methods of paper mache to carefully document culture and the world around him. His work aims to build a visual language that everyday people and people from the art world can both understand. Together, these works serve as a brave avenue of self-discovery.
Click Here to shop/view the collection!︎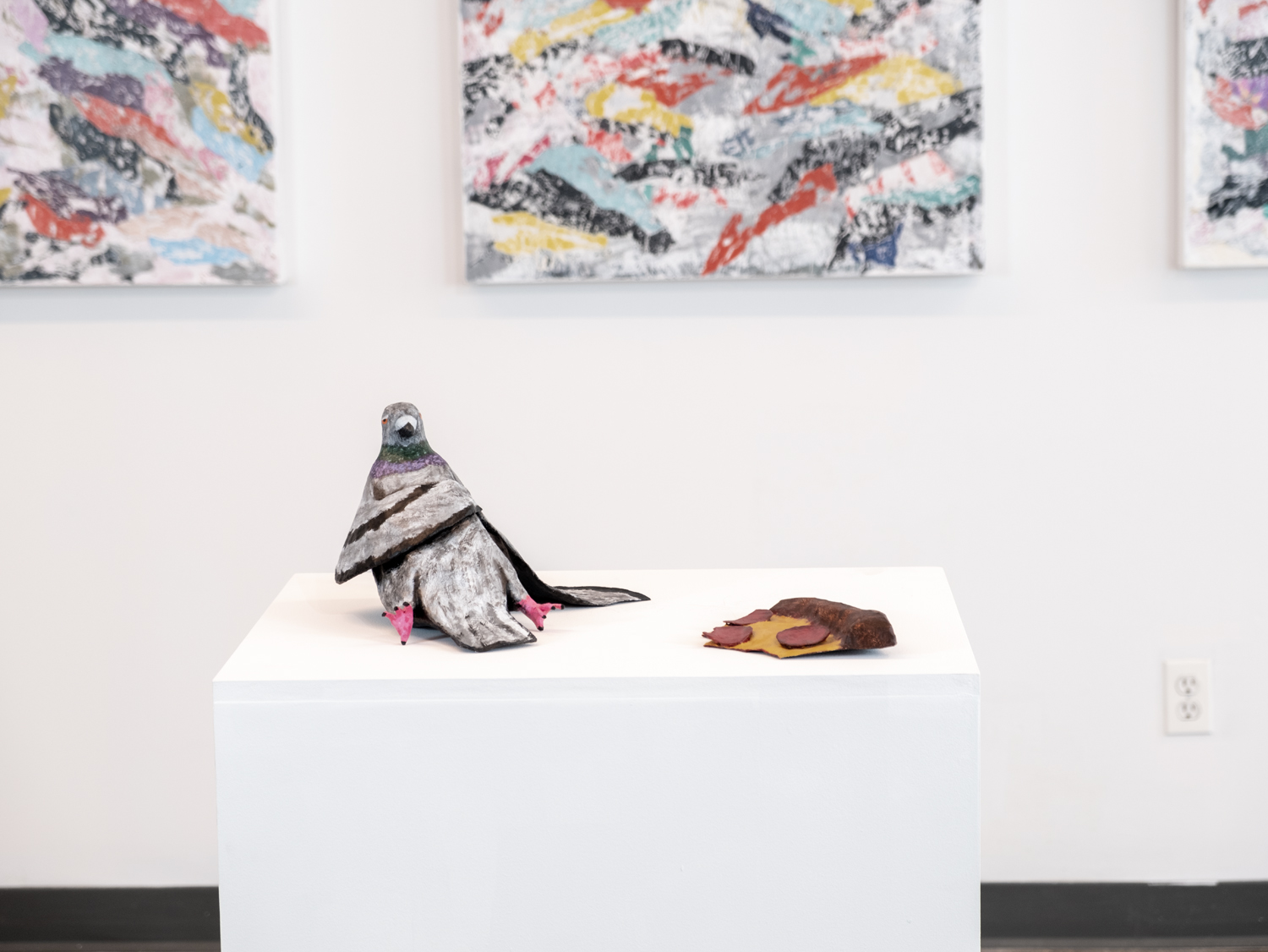 Shantaye McMorrow
Shantaye McMorrow is an abstract mixed-media painter focusing in acrylic, ink, spray paint and various dry mediums. Shantaye grew up on the south shore of Long Island, New York but eventually ventured to the west coast to pursue a BFA in Art & Visual Culture Education at the University of Arizona, as well as, a Graduate degree in Applied Behavior Analysis at ASU. During her time in Arizona, Shantaye immersed herself in teaching Fine Arts in public schools, galleries and privately, while also, honing in on her own artistic practice. Currently, Shantaye lives in Queens, New York and works as a behavior intervention specialist for the developmentally disabled community.

Shantaye's artwork is autobiographical and created to make sense of traumatic life events, as well as, less than desirable feelings. Raw, gestural marks work primarily with color and value to emphasize internal landscapes. Paintings focus on her own negotiation of memory; particularly looking at how these experiences have shaped her current understanding of intimacy. The work can best be described as cynical non-linear representations; seen over time, all at once. Emotions or behaviors that are pertinent at the time of the work rise to the surface and are explored through intuitive mark-making. The artistic process is an active inventory of personal archetypes, allowing for connections to be drawn, with the goal of uncovering origins. The journey from start to finish, acts as a catharsis, allowing for connection to primal knowing and higher self.



---
KAVES
Michael 'KAVES' McLeer is a man of faith.
For McLeer (b. Brooklyn, 1969), faith and spirituality are derived not from a theistic higher power but from a rich fabric of personal memories firmly anchored to a sense of place. That place has always been but one:Brooklyn. McLeer's work has continually been inspired by the crumbling, many-faced Brooklyn of the 1970s and 1980s in which he was born and raised.

McLeer has carried memories of this place in time and spent years recounting them as a kind of folklore through the formats of graffiti, music, and painting. He began making artwork in his early teens illegally spray painting subway trains, buses, and handball courts. This instilled in him a tendency of capitalizing onbold lines, high contrast, and fast mark-making. Graffiti also functioned as a form of storytelling and socialcommentary. It was a citywide bulletin board, a system of communication, and a platform for the youth forthe development of individual fable.
---


PJ Cambe
Brookyn based artist PJ Cambe's work is inspired by the city he calls homes. His decollages are made from actual wheat pasted advertisements that flood the streets and subway stations of New York City. His background as a street artist and skateboarder led him into being a fine artist. Like many of his contemporaries he is self taught, an autodidact. Influenced by the DIY aesthetic, driven by finding one's voice and style through the constant exploration of trial and error. PJ is also an accomplished street photographer, designer, DJ and skateboarder. He owns and operates the skateboard hardware company "Happy 88". He lives in Brooklyn with his wife and daughter. His work has been exhibited in galleries both domestically and abroad.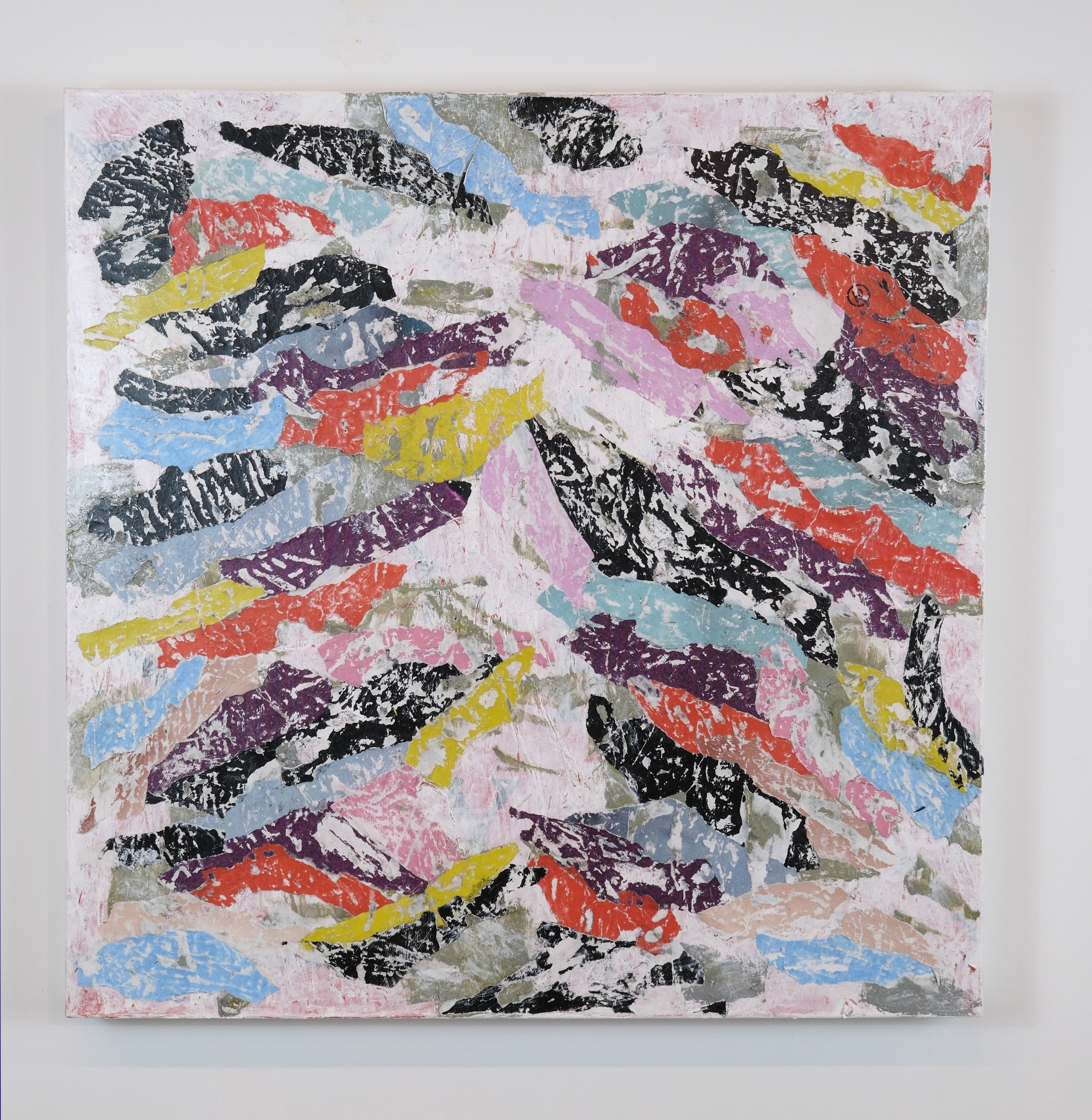 ---


Piero Penizzotto
Piero Penizzotto (b. 1998) is a Peruvian-American artist born and based in Queens, NY. Piero's practice, primarily sculpture and painting, is rooted in documenting the people, objects, locations, and the personal/communal experiences in his life that hold a sentimental value to him. He received a BFA from Hunter College (2022) and has recently placed third in Labor Art's annual CUNY Contest (2021) with his painting "At a Glance".