Actual Paper (online exclusive)

Oct 28th – Dec 28th, 2021

Court Tree Collective proudly presents Actual Paper a group exhibiton inspired by our love for paper works. Featuring the works of Jung Eun Park, Linden Eller, Senem Oezdogan, Todd Lambrix, John Richey, Nick Battis, John Whitlock, Jaime Patino-Calvo, Jini Lee, and Toni Ann Serratelli.

Click here ︎ to shop the collection!



---
Jung Eun Park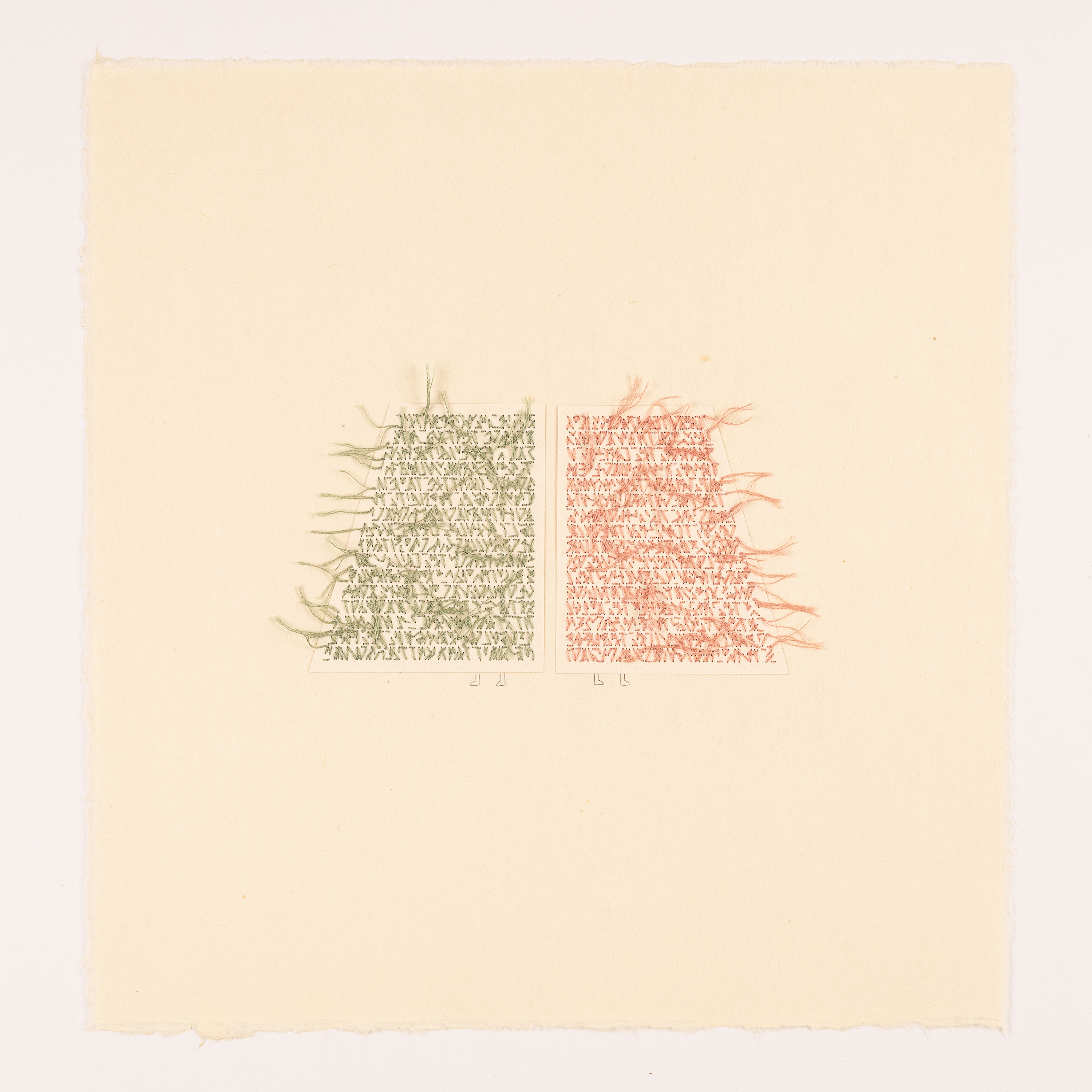 Jung Eun Park is a New York-based artist working in drawing and sculpture. He primary materials are graphite pencil, embroidery thread, and watercolor on coffee dyed Korean paper. Park investigates a meaning of home by observing a relationship with people, objects, and environments. Park captures imagery of her intimate life, which implying her psychological narratives, and records the moment with simple line and shape on her drawing. Simplified and symbolized objects, such as a house, plants, bricks, or pots are altered conceptually in her drawing to speak a universal language of a human being living in a new environment.

Jung Eun Park was born and raised in Seoul, South Korea where she received her B.F.A degree in Painting at KookMin University. She moved to New York in 2005 for her M.F.A degree in Painting at Pratt Institute. She has received artist grant and studio space fro the Vermont Studio Center. Her work has been widely exhibited in the United State Europe, and Asia. Park is currently an artist in residence of Chashama Visual Arts Program in Brooklyn, NY.

Click here ︎ to see more of Jung Eun's work.


---
Nick Battis



Nicholas Battis is a Brooklyn-based painter and digital artist whose colorful, textured and layered work investigates nature, process, the built environment and the digital age. He received his MFA from Pratt Institute and has been actively pursuing a career in the New York art scene for the last 30 years. His career in the arts is been multifaceted including art making, curating, and consulting with a long commitment as Director of Exhibitions for Pratt Institute where he organizes exhibitions of art and design that focus on sustainability, politics, media and science. He has had one-person shows of his painting at George Billis Gallery in New York and Los Angeles, and Judy Saslow Gallery in Chicago.

Click here ︎ to see more of Nick's work.


---
John Richey




John Richey is a New York based visual artist and curator who works between Brooklyn, NY and the Hudson Valley. His cross-disciplinary practice is process-driven and incorporates cyanotype, handmade video animations, and immersive installations using themes and images borrowed from various personal collections. He holds degrees from the University of Arizona and the University of California, San Diego, has exhibited domestically and abroad, and was profiled in Artforum Internationals "Best of 2004". He has attended artist residencies at the Banff Centre for the Arts in Alberta, Canada, the Bronx Museum of the Arts' AIM Program, the Studios at MASS MoCA residency in North Adams, MA, and most recently 77ART in Rutland, VT. Over the past 17 years, in addition to his active studio and curatorial practice, Richey has held various professional titles at New York commercial galleries and fine art foundations including Marian Goodman Gallery, Greene Naftali Gallery, the Keith Haring Foundation, and Pace Gallery.

Click here ︎ to see more of John's work.


---
Toni Ann Serratelli



Toni Ann Serratelli is a painter and printmaker living in Brooklyn. She has a MFA from Tyler School of Art where she studied in both Philadelphia and Rome and also received a Fulbright Grant to Italy for painting and etching.Her work is in private collections in France, Belgium, Italy, Manhattan, Brooklyn, Los Angeles, Arizona, Philadelphia and Washington, DC.








Click here ︎ to see more of Toni Ann's work.


---
SENEM OEZDOGAN



Senem Oezdogan is a Brooklyn-based painter whose practice includes painting, drawing, and fiber works. Her work focuses on the exploration of the transformation of paint into light and the creation of three-dimensional reality on a flat surface. Her most recent paintings are composed of geometric shapes, using convex and concave elements. The smooth waves of gradients enveloping the surface generate the illusion of movement and depth. Playing with the juxtaposition of what the mind knows and the eye sees, these forms are perceived as three-dimensional objects which create an anthropomorphic and biomorphic system of relationships that evoke to the human body and nature as well as architecture. Like stand-alone objects, they occupy the viewer's space and seem to continue beyond the canvas where shape turns into form, form turns into volume and volume turns into emotion.





Click here ︎ to see more of Senem's work.


---
Jini Lee




Seoul-based artist Jini Lee turns to her own paper cut-out drawings to construct organic compositions. In her 'meditation collage', she creates the layers of white paper resulting in an atmospheric foundation from which delicate lines, forms, and texture subtly emerge. Rather than depicting a specific shape, this cut-out drawing points to other ways of understanding paper collage; as memory, as light, as visual voice, as connected to meditation.

Jini Lee majored in Spatial Design at Kookmin University in Seoul, South Korea and Visual Design at Pratt Institute in New York.





Click here ︎ to see more of Jini's work.




---
Todd Lambrix



Todd Lambrix is an artist living and working in rural New Jersey. He has an MFA from RiSD anda BFA from Mason Gross School of the Arts at Rutgers. His biggest influences have alwaysbeen Duchamp, Joseph Cornell and Donald Judd. His practice is diverse and ranges fromdrawing to sculpture to painting to video. His inspirations in his work come from systems andhierarchies in nature, architecture, science and the wonderment associated with beingscience-adjacent.

The pandemic spawned a number of projects for Todd including his cabinet card drawings. Healso began a weekly live stream called The Large Glass with his partner Terri which centers onart and artists in a casual pub-like setting where regulars gather and chat about the topic.

He is a dad and a teacher and enjoys traveling about in his vintage VW camper.

Click here ︎ to see more of Todd's work.


---
Jaime Patino-Calvo




Colombia-born artist and designer Jaime Patino-Calvo works and lives in Brooklyn. His work obsessively depicts the human emotional state of mind. Jaime paints improvisationally and spontaneously without an act of direction. Often balancing between figurative and non-figurative drawings, sometimes inspired by biology and cosmology. His subjects take on cultural aspects that are both tangible and familiar. A narrative that evokes ancestral past, present and future.


Click here ︎ to see more of Jaime's work.


---
Linden Eller





Born in 1984, Linden spent her youth in the urban Sonoran desert of Phoenix, Arizona before moving to Southern California to obtain her BA in Studio Art. She's since lived and worked across Europe, Asia, and Oceania.

Her work centers around themes of memory architecture – its process of alterations, renewals, and inaccuracies. Fully enamored by mixed media, she uses a variety of materials to create, including paper, found fragments, transparencies, sewing thread, paint, and pastels. Blending autobiographical narratives with collective subjects such as childhood, longing, and place, Linden thinks of her collages as layered field recordings that represent a oneness – multiple perspectives of the same story.

Linden's work has been published and exhibited internationally. She currently lives in Chatham, New York.

Click here ︎ to see more of Linden's work.


---
John Whitlock







John Whitlock is an Artist and Musician from Brooklyn NY working primarily in collage, assemblage and painting. John's work attempts to evoke familiarity through abstraction. John has been exhibited internationally and featured in various publications–including a four page feature in Gestalten's Age of Collage: Contemporary Collage in Modern Art.




Click here ︎ to see more of John's work.



---